Car Loans Australia
:: News
Why Homebuyer Borrowing Plunged in April Despite Strong Housing Demand
Why Homebuyer Borrowing Plunged in April Despite Strong Housing Demand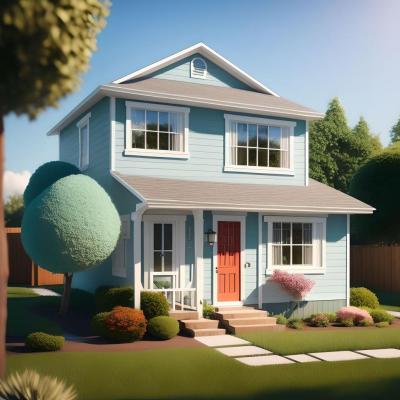 The lending market experienced yet another slump in April as new home commitments continued to decline due to higher interest rates and suppressed demand for housing.
According to research, home loan borrowers decreased by 2.9% monthly, following a 5.3% increase in housing-related borrowing in March.
The value of owner-occupier lending declined by 3.8%, while investor borrowing dropped a small 0.9%, with the total housing lending still down by 25.8% in comparison to how it performed last year.
Market Observations
Senior economist at Oxford Economics Australia, Maree Kilroy, noted that the reduction in new home listings has led to a decreased supply of real estate and a return to price growth in markets such as Sydney, Melbourne, and Perth. However, she warns there is no certainty that price growth will continue throughout 2023. Kilroy points out that it is too soon to rule out the impact of rising interest rates on at-risk borrowers and their potential to affect property prices on the back half of 2023.
The Struggling Home Building Sector
The lending slump has also affected the home building sector, with a sharp decrease in loans to construct dwellings. In April, only 2,546 loans were approved, marking a historical low. The current demand for housing seems to be outstripping supply, and there is limited development in the sector to make up for the deficiency.
Final Thoughts
Overall, the decrease in homebuyers borrowing in April is a reminder of the impact interest rates and supply can have on the demand for housing. While we are witnessing price growth in some markets, we cannot ignore the struggles of the home building sector and at-risk borrowers. The future remains uncertain, and it will be interesting to see how the market adjusts in the coming months.
Published:Saturday, 3rd Jun 2023
Source: financialservicesonline.com.au
Share this news item:
Mortgage Stress Spurs Increase in Early Release Super Enquiries


13 Sep 2023: .financialservicesonline.com.au

The COVID-19 regime implemented by the former Coalition government allowed individuals facing financial hardship to access their superannuation early. Although this program ended almost four years ago, recent data suggests that people are still seeking early access to their superannuation to overcome current economic challenges.

- read more
Australian Borrowers Brace for More Interest Rate Challenges


13 Sep 2023: .financialservicesonline.com.au

According to recent estimates by CBA, the value of fixed-rate mortgages set to expire within the next six months amounts to a staggering $34 billion. Even more concerning is the anticipated expiration of an additional $52 billion worth of fixed-rate mortgages by the end of the year.

- read more
Finance Regulator Taking Westpac to Court over Hardship Cases


07 Sep 2023: .financialservicesonline.com.au

Australia's oldest bank, Westpac, is facing legal action as the Australian Securities and Investments Commission (ASIC) alleges that it failed to respond to financial hardship notices from hundreds of customers. The civil action, which involves 229 impacted customers, will be launched in the Federal Court this week.

- read more
Deepening Financial Woes for 1.5 Million Australians Caught in Mortgage Stress


29 Aug 2023: .financialservicesonline.com.au

Roy Morgan, a leading market research company, has released its latest mortgage stress survey for July, revealing a startling increase in financial pressure on Australian homeowners. The survey shows that mortgage stress has reached its highest level since May 2008, with a staggering 1.5 million individuals, or 29.2% of mortgage holders, now classified as 'at risk'.

- read more
Car Loans: Secured vs Unsecured


Car loans play a pivotal role in empowering individuals to afford their own vehicle, which can be a significant purchase. These loans, structured to fit within one's financial situation, can ease the burden of acquiring a car and assist in achieving personal convenience and mobility.

- read more
7 Quick Car Insurance Tips for Teen Drivers


For young drivers, getting a drivers license is like a ticket to freedom. Driving provides a number of other obvious benefits as well, and it is largely considered a rite of passage into adulthood by the vast majority of teenagers. However, there are many things to think about when you're preparing to take the wheel, including a car insurance policy.

- read more
How To Get The Best Deal On A New Car Loan


The process of buying a new car is an exciting time, however it can also be a bit stressful, especially when it comes to financing. With so many options on the market, it can be difficult to know how to get the best deal on a new car loan.

- read more
Car Sales: 3 Important Steps Before Buying Your Next Vehicle


If you're thinking about buying a car, there are a few things you should do before you head to the dealership. The most important thing is to establish a budget and figure out what you can afford. Once you have a firm understanding of your financial situation, you can start looking for a car that fits your needs, lifestyle and budget.

- read more
Get a free car loan eligibility assessment and compare offers tailored specifically to your circumstances.
All finance quotes are provided free (via our
secure server
) and without obligation.
We respect your
privacy.
Consumer Credit Code:
An act of Parliament that governs the relationship that exists between borrowers and lenders.