Car Loans Australia
:: News
RBA Indicates Possible End to Interest Rate Hikes by September
RBA Indicates Possible End to Interest Rate Hikes by September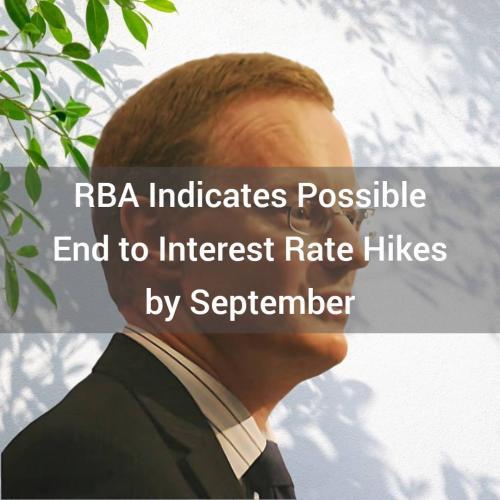 The Reserve Bank of Australia (RBA) has raised interest rates for the tenth consecutive time, culminating in an increase of $1,080 per month for payments on a $600,000 variable mortgage.
However, the good news for borrowers is that an end to the rate hikes is in sight, with the possibility of a tapering off as early as mid-September.
While the RBA has indicated that further tightening may be required, the lack of a plural reference in the statement could mean only one more increase, not necessarily next month. The bank has been trying to curb Australia's sudden reemergence of high inflation and ensure that it is only temporary. Although inflation hit 7.8% in December, the good news is that it seems to be easing to the extent that it comes from overseas prices for fuel and other imports.
On the domestic front, a surge in spending has stopped, with retail spending remaining flat for the past four months, despite a growing population and prices. As a result, consumer confidence has dived to its lowest point since the 2020 COVID recession, and GDP growth has slowed.
Wage figures show a growth of just 3.3% in the year to December, below the increase in prices and Governor Philip Lowe's target growth of 5%.
The RBA board remains vigilant about the risk of a prices-wages spiral, which could indicate further increases.
However, Governor Lowe's five-year term expires on September 17, and he wants to leave the bank in good order by breaking the back of runaway inflation. This could mean going harder for longer on interest rate rises than he otherwise would. Lowe has six months left to get his house in order.
Published:Thursday, 9th Mar 2023
Source: financialservicesonline.com.au
Share this news item:
Fierce competition in the mortgage industry: customers switching banks at a record rate


23 Mar 2023: .financialservicesonline.com.au

Recent analysis provided to a Senate inquiry by the Australian Banking Association (ABA) has shown that a staggering 70% of home loan customers whose fixed mortgage rates expired in the past six months have refinanced with a different bank. The trend is leading to increasingly intense competition in the $2 trillion home loan market and poses significant risks for lenders as home loan books face unprecedented levels of turnover.

- read more
Banking Experts Predict Interest Rate Hike Pause


21 Mar 2023: .financialservicesonline.com.au

Financial experts are predicting a pause on interest rate hikes in Australia, which could happen in April or May. While there may not be any rate cuts yet, Bendigo and Adelaide Bank's chief economist, David Robertson, believes a range of factors suggest a pause in interest rates is on the horizon.

- read more
7 Quick Car Insurance Tips for Teen Drivers


For young drivers, getting a drivers license is like a ticket to freedom. Driving provides a number of other obvious benefits as well, and it is largely considered a rite of passage into adulthood by the vast majority of teenagers. However, there are many things to think about when you're preparing to take the wheel, including a car insurance policy.

- read more
How To Get The Best Deal On A New Car Loan


The process of buying a new car is an exciting time, however it can also be a bit stressful, especially when it comes to financing. With so many options on the market, it can be difficult to know how to get the best deal on a new car loan.

- read more
Car Leasing


Leasing is an often misunderstood car financing option so, in response to subscriber feedback, we've included this article to help give you a better understanding of what it is and how it works.

- read more
5 Simple Steps to Buy Your Dream Car Now


For many people, owning a car is a symbol of success and freedom. It's not simply a matter of transport, it's a way to show the world that you've made it. But for others, the prospect of owning a car is a distant dream. If you're in the latter group, then this guide is for you.

- read more
How to Buy a Car with Bad Credit: A step-by-step guide


A car is a major purchase, and for many people, it's the second biggest purchase they'll make after a home. If you have bad credit, you may be wondering if it's even possible to buy a car. The good news is yes, it may be attainable - as long as you research your options and engage the right help.

- read more
Get a free car loan eligibility assessment and compare offers tailored specifically to your circumstances.
All finance quotes are provided free (via our
secure server
) and without obligation.
We respect your
privacy.
Debt Consolidation:
Debt consolidation usually involves negotiating a new loan to pay other existing loans in order to get more favourable interest rates and terms.