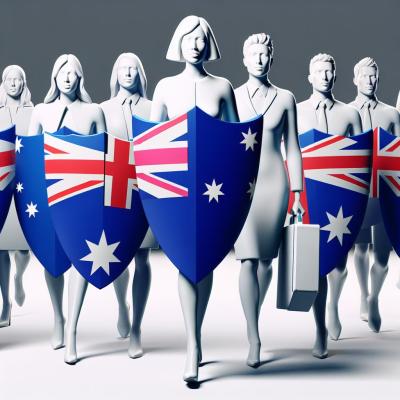 A recent study conducted by MLC reveals that while most Australians recognize the importance of superannuation in achieving financial independence, a significant portion of the population feels ill-prepared to overcome unexpected financial hurdles.
The study, called the Financial Freedom study, shows that although many Aussies are actively working towards improving their financial wellbeing, additional assistance is needed to achieve financial objectives and adequately plan for retirement.
The study found that 69% of Australians spend time contemplating their retirement savings, while 70% have a good understanding of how their superannuation can help them reach their financial goals. Despite this, 20% feel slightly prepared and 11% do not feel prepared at all to tackle unexpected personal finance challenges.
Interestingly, the research also reveals that almost four in five Australians (79%) have a rough idea of their superannuation fund balance. Furthermore, a significant number of individuals aged 18-42 (13% for 18-27, and 14% for 28-42) and aged 43-76 (20% for 43-57, and 16% for 58-76) make additional personal contributions to their super funds.
Mark Oliver, the Chief Distribution Officer and Head of Superannuation at Insignia, emphasizes the need for additional support in achieving financial freedom. He states, "While it is widely known that superannuation requires ongoing attention, the industry has a responsibility to empower members to feel confident about their superannuation and overall financial wellbeing. Waiting until retirement age to provide relevant tools, information, education, and advice is simply too late, especially considering the five million Australians nearing retirement."
In light of the ongoing debate surrounding the Quality of Advice Review (QAR) proposal, which grants more advisory power to super funds, Oliver expresses his support for the initiative. He believes expanding the personal advice offer by superannuation funds is a positive step forward in helping members effectively plan for retirement, despite concerns raised by some financial advisers about preservation of advice standards. Oliver acknowledges that financial advice requirements exist on a continuum, and expanding the scope of advice within superannuation will better meet these needs.
Published:Saturday, 11th Nov 2023
Source: financialservicesonline.com.au
Share this news item:
New Challenges for Aussie Home Buyers


29 Nov 2023: .financialservicesonline.com.au

The latest ANZ CoreLogic Housing Affordability Report for November has revealed a 'triple whammy' effect on prospective home buyers in Australia. Affordability has worsened for not only buyers but also mortgage holders and renters, and unfortunately, the situation is predicted to deteriorate further by 2024.

- read more
Rise in Small Businesses Complaints to AFCA Indicates Growing Concerns


24 Nov 2023: .financialservicesonline.com.au

In the 2022-23 financial year, small businesses lodged a total of 3,807 complaints with the Australian Financial Complaints Authority (AFCA), indicating a significant increase of 9% compared to the previous year. As a result of these complaints, small businesses received $23.4 million in compensation and refunds, marking a 16% increase from the previous financial year.

- read more
Why Embracing AI Can Enhance Your Financial Advice Business


23 Nov 2023: .financialservicesonline.com.au

Sue Viskovic, the founder of consulting firm Elixir Consulting, highlights the importance of incorporating AI into financial advice businesses in an upcoming episode of the IFA podcast. While there may be apprehension regarding the role of digital tools in providing advice, Viskovic emphasizes the continued need for human interaction and trust.

- read more
New Insights on Inflation and the Australian Economy


22 Nov 2023: .financialservicesonline.com.au

Reserve Bank governor Michele Bullock has issued a warning, stating that inflation will continue to be a 'crucial challenge' for the Australian economy in the next one or two years. While many attribute the current inflationary pressures to supply-side constraints, Bullock emphasizes the underlying demand component that central banks are trying to address.

- read more
Car Loans: Secured vs Unsecured


Car loans play a pivotal role in empowering individuals to afford their own vehicle, which can be a significant purchase. These loans, structured to fit within one's financial situation, can ease the burden of acquiring a car and assist in achieving personal convenience and mobility.

- read more
How to Buy a Car with Bad Credit: A step-by-step guide


A car is a major purchase, and for many people, it's the second biggest purchase they'll make after a home. If you have bad credit, you may be wondering if it's even possible to buy a car. The good news is yes, it may be attainable - as long as you research your options and engage the right help.

- read more
5 Simple Steps to Buy Your Dream Car Now


For many people, owning a car is a symbol of success and freedom. It's not simply a matter of transport, it's a way to show the world that you've made it. But for others, the prospect of owning a car is a distant dream. If you're in the latter group, then this guide is for you.

- read more
Breaking down the cost of fuel: how much do you really spend on petrol per year?


As a car owner, you probably already know that fuel is one of the largest expenses you have to face on a regular basis. However, have you ever stopped to consider just how much you spend on petrol every year? Understanding the true cost of fuel can be eye-opening, revealing just how much of your hard-earned money goes toward filling up your tank. In this article, we will break down the cost of fuel, exploring the various factors that impact petrol prices and calculating how much you can expect to spend each year.

- read more
Get a free car loan eligibility assessment and compare offers tailored specifically to your circumstances.
All finance quotes are provided free (via our
secure server
) and without obligation.
We respect your
privacy.
Mortgage Document:
The physical contract agreement that a Mortgagee (lender) enters into with a Mortgagor (borrower) outlining the precice terms of a mortgage loan.