Car Loans Australia
:: News
Gen Zs Financial Concerns Outweigh Other Generations
Gen Zs Financial Concerns Outweigh Other Generations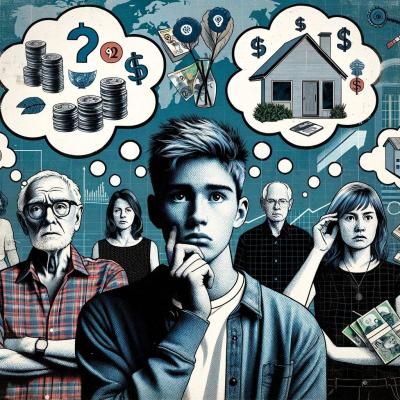 Financial matters are causing significant worry among Gen Z individuals, with a staggering 68% feeling the pressure according to the recent research findings by ASIC's Moneysmart program, surpassing the concerns of any other age group.
This release coincides with the introduction of a fresh consumer awareness campaign by Moneysmart, aimed at empowering Gen Z individuals to quickly acquire fundamental financial knowledge and develop positive fiscal habits.
The study highlights the growing financial stress experienced by 82% of Australian Gen Zs (aged between 18 to 26). Nevertheless, this generation is also twice as likely as other age groups to demonstrate a strong desire to enhance their financial management skills as a means to overcome their financial pressures.
Challenges to Financial Well-being
Encouragingly, nine out of ten Gen Z individuals are determined to boost their financial literacy and confidence, despite facing a number of obstacles. The research indicates that almost half (49%) of financially insecure Gen Zs indicate feeling overwhelmed as the biggest barrier to achieving financial security, closely followed by not knowing how or where to start (42%).
Quick Learning and Social Media Appeal
Furthermore, the research unveils that Gen Zs prefer to acquire knowledge in the shortest time possible (77%) and are twice as likely as other generations to turn to social media platforms (56% compared to 23% of non-Gen Zs) for guidance and information on financial management.
Higher Debt Levels and Reliance on Credit Products
As per the research findings, Gen Zs typically possess higher levels of personal debt compared to other age groups, alongside a greater dependency on credit products. Key highlights of the study include:
Gen Zs carry an average personal debt of $8,188, exceeding non-Gen Zs ($6,730).
Approximately 21% (equivalent to 600,000 individuals) are burdened with personal debts amounting to $10,000 or more, with 4% (equivalent to 124,000 individuals) facing debts exceeding $50,000.
25% (equivalent to 720,000 individuals) have less than $1,000 in savings, including 8% (equivalent to 217,000 individuals) who have no savings at all.
Gen Zs are more likely to utilize Buy Now Pay Later (BNPL) services (28%) compared to non-Gen Zs (21%).
BNPL usage is also more prevalent in regional Australia, with 34% of Gen Zs in these areas utilizing such services, compared to 26% in metro areas.
Surviving Cost-of-Living Challenges
In response to the mounting pressure of the cost of living, Gen Z individuals are considering options like taking on additional or new employment opportunities (39%) to address their financial difficulties.
Published:Saturday, 18th Nov 2023
Source: financialservicesonline.com.au
Share this news item:
New Challenges for Aussie Home Buyers


29 Nov 2023: .financialservicesonline.com.au

The latest ANZ CoreLogic Housing Affordability Report for November has revealed a 'triple whammy' effect on prospective home buyers in Australia. Affordability has worsened for not only buyers but also mortgage holders and renters, and unfortunately, the situation is predicted to deteriorate further by 2024.

- read more
Rise in Small Businesses Complaints to AFCA Indicates Growing Concerns


24 Nov 2023: .financialservicesonline.com.au

In the 2022-23 financial year, small businesses lodged a total of 3,807 complaints with the Australian Financial Complaints Authority (AFCA), indicating a significant increase of 9% compared to the previous year. As a result of these complaints, small businesses received $23.4 million in compensation and refunds, marking a 16% increase from the previous financial year.

- read more
Why Embracing AI Can Enhance Your Financial Advice Business


23 Nov 2023: .financialservicesonline.com.au

Sue Viskovic, the founder of consulting firm Elixir Consulting, highlights the importance of incorporating AI into financial advice businesses in an upcoming episode of the IFA podcast. While there may be apprehension regarding the role of digital tools in providing advice, Viskovic emphasizes the continued need for human interaction and trust.

- read more
New Insights on Inflation and the Australian Economy


22 Nov 2023: .financialservicesonline.com.au

Reserve Bank governor Michele Bullock has issued a warning, stating that inflation will continue to be a 'crucial challenge' for the Australian economy in the next one or two years. While many attribute the current inflationary pressures to supply-side constraints, Bullock emphasizes the underlying demand component that central banks are trying to address.

- read more
Car Loans: Secured vs Unsecured


Car loans play a pivotal role in empowering individuals to afford their own vehicle, which can be a significant purchase. These loans, structured to fit within one's financial situation, can ease the burden of acquiring a car and assist in achieving personal convenience and mobility.

- read more
Car Leasing


Leasing is an often misunderstood car financing option so, in response to subscriber feedback, we've included this article to help give you a better understanding of what it is and how it works.

- read more
5 top tips when buying a used car in Australia


Buying the right second-hand car can be a bit of a minefield – from finding a model that fits your needs and budget - to negotiating the best deal with the seller, but with a few tips and tricks, it can be made a lot easier and less stressful.

- read more
7 Quick Car Insurance Tips for Teen Drivers


For young drivers, getting a drivers license is like a ticket to freedom. Driving provides a number of other obvious benefits as well, and it is largely considered a rite of passage into adulthood by the vast majority of teenagers. However, there are many things to think about when you're preparing to take the wheel, including a car insurance policy.

- read more
Get a free car loan eligibility assessment and compare offers tailored specifically to your circumstances.
All finance quotes are provided free (via our
secure server
) and without obligation.
We respect your
privacy.
Mortgagor:
A person who offers to assign an asset as security (e.g. real estate) under a mortgage loan contract. The lender (mortgagee) holds the legal ownership of the security until the loan is repaid and the mortgage is discharged.