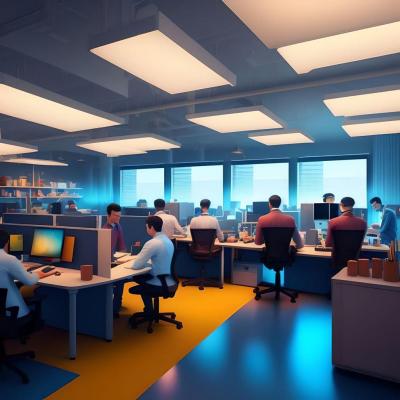 Recent statements made by the Reserve Bank of Australia highlight the importance of productivity growth in sustaining the economy.
According to Reserve Bank governor Philip Lowe, stagnating productivity levels are directly impacting wages.
Without improvements in productivity, the implication is that a recession is looming to bring wages and inflation down. This has been further emphasised with the recent increase in monthly inflation rates. However, the catch-22 here is whether productivity growth can improve without real wages growth. Here's an analysis of the current state of productivity growth in Australia and why it is crucial for the economic well-being of the country.
Factors Affecting Productivity Growth
There are several factors affecting productivity growth, with declining workforce productivity being the primary concern. The shift from goods to services is one of the major reasons for the decline. As stated by The Productivity Commission, it is more challenging to drive productivity growth in the services sector. The growth in the care sector coupled with automation is also hampering productivity growth. Automation, in particular, has a significant impact on productivity growth as every job lost due to automation can lead to a decline in productivity.
However, the decline in productivity growth is also attributed to workers feeling undervalued and exploited. The main reason for this is the stagnation of real wages, which has made it difficult for workers to make any meaningful financial progress. Workers who cannot get a pay rise, or whose work is undervalued because of insurance or any other reasons, are less productive.
Impact on Inflation
The Reserve Bank governor stated that productivity growth is the solution to inflation. To achieve the aim of 2.5 per cent inflation with more than 3.5 per cent wages growth, productivity growth needs to reach at least one per cent. There has been no increase in productivity growth for three years, and this has resulted in the inflation rates remaining high.
The Reserve Bank has no control over productivity, but what it controls is the rate of interest, which influences aggregate demand. Here, borrowers cut back their spending more than savers who end up increasing it. Therefore, the Reserve Bank's goal is to reduce cash flow, which will lead to reductions in spending and increase unemployment rates. This move decreases wages, which then leads to reduced inflation rates because firms do not get to raise the prices of their products.
The Bigger Picture
Declining productivity growth is not only an economic issue but also a policy problem. According to economist Ross Garnaut, economic policy should have a "full orchestra," including fiscal, monetary, trade, energy, immigration, competition, labour, and other forms of policies. He goes ahead to suggest that the best monetary policy cannot deliver good outcomes without the full support of other policies.
The government can play a significant role in increasing productivity, and this can be achieved by ensuring that the country's infrastructure is up-to-date. The role of technology, particularly artificial intelligence, in enhancing productivity growth cannot be overlooked. The Government can also encourage more innovative technology, enhance competitive wage rates and push for higher standards of education.
Conclusion
Productivity growth is a crucial factor for improving the economic health of the country. It impacts wages, inflation rates, and overall aggregate demand. There is a need for the Government and other policymakers to collaborate to stimulate productivity growth through effective fiscal and monetary policies. This can be achieved by encouraging the use of technology, proper investment in infrastructure, and continually assessing new strategies that can further boost productivity growth.
Published:Thursday, 1st Jun 2023
Source: financialservicesonline.com.au
Share this news item:
Mortgage Stress Spurs Increase in Early Release Super Enquiries


13 Sep 2023: .financialservicesonline.com.au

The COVID-19 regime implemented by the former Coalition government allowed individuals facing financial hardship to access their superannuation early. Although this program ended almost four years ago, recent data suggests that people are still seeking early access to their superannuation to overcome current economic challenges.

- read more
Australian Borrowers Brace for More Interest Rate Challenges


13 Sep 2023: .financialservicesonline.com.au

According to recent estimates by CBA, the value of fixed-rate mortgages set to expire within the next six months amounts to a staggering $34 billion. Even more concerning is the anticipated expiration of an additional $52 billion worth of fixed-rate mortgages by the end of the year.

- read more
Finance Regulator Taking Westpac to Court over Hardship Cases


07 Sep 2023: .financialservicesonline.com.au

Australia's oldest bank, Westpac, is facing legal action as the Australian Securities and Investments Commission (ASIC) alleges that it failed to respond to financial hardship notices from hundreds of customers. The civil action, which involves 229 impacted customers, will be launched in the Federal Court this week.

- read more
Deepening Financial Woes for 1.5 Million Australians Caught in Mortgage Stress


29 Aug 2023: .financialservicesonline.com.au

Roy Morgan, a leading market research company, has released its latest mortgage stress survey for July, revealing a startling increase in financial pressure on Australian homeowners. The survey shows that mortgage stress has reached its highest level since May 2008, with a staggering 1.5 million individuals, or 29.2% of mortgage holders, now classified as 'at risk'.

- read more